"You are a little brick in the wall of the world.
Find your place in it!"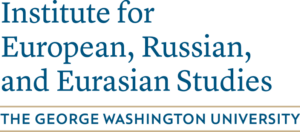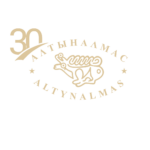 This July, Gaudy Boy will publish an English-language anthology of Kazakhstani women's writing entitled Amanat. The anthology brings together short stories and essays by 13 women
Read More »
The Stories of the Modern Kazakh Prose
Retelling selected stories of 20th century Kazakh Literature
Anuar Alimzhanov was born on May 2, 1930, in the village of Karlygash in Taldykorgan region. From 1963 to 1967, he worked as editor-in-chief of
Listen »
Rollan Seisenbayev, born October 11, 1946, in Semipalatinsk, is a prominent contemporary Kazakh writer, playwright, and translator. His novels and short stories have been published
Listen »
Satimzhan Sanbayev is a Kazakh writer, film actor, and screenwriter. He won the Prize of the Union of Writers of the USSR in 1981 for
Listen »
Myrzhakyp Dulatov was born on November 25, 1885. He lost his parents early. Dulatov's political creed was clearly articulated when, in 1909, he published his
Listen »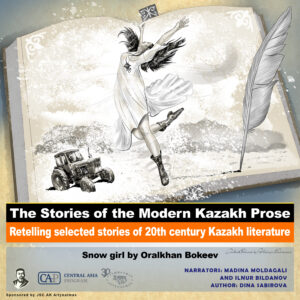 Oralkhan Bokeev (September 28, 1943 – May 17, 1993) was a Kazakh writer, playwright, and journalist. A bright and sensitive writer, a master wordsmith, Bokeev
Listen »
Mukhtar Auezov (September 28, 1897–June 27, 1961) was a prominent Kazakh writer and an honored academic of the Soviet Union. Auezov's works had a major
Listen »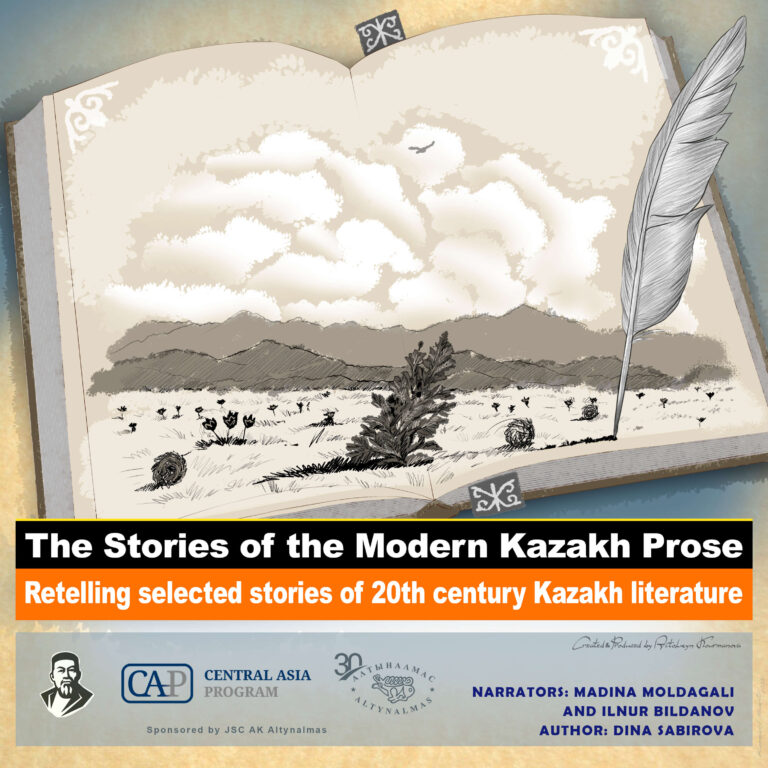 The Sounds of the Great Steppe
Listen to the latest episodes
Abai Kunanbaiuly is one of the most inspiring figures in Kazakh art. Classic paintings, rare photos, and modern pop images depicting Abai transcend generations and social constructs. Every artist sees him differently, from their own soul, leading to particular representations and unique visuals.
Kazakhstan & Central Asia: Through the Eyes of Western Travelers
The Great Steppe has long attracted the intrepid and curious adventurers from the West. The Abai Center's collection of their writings—travelogues, academic field work, diplomatic dispatches, and personal journals—are among the earliest observations of Turkic and nomad culture and customs to be published at large scale.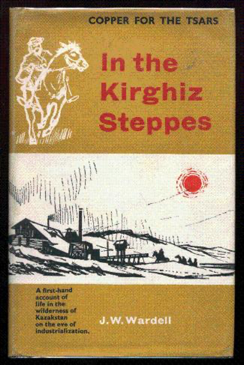 Courtesy of Personal Library of Former Ambassador of Kazakhstan to the United States of America H.E. Erzhan Kazykhanov Avid readers of the Abai Center are
Read More »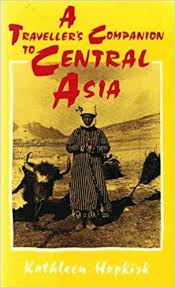 Courtesy of Personal Library of Former Ambassador of Kazakhstan to the United States of America H.E. Erzhan Kazykhanov Kathleen Hopkirk's portrayals of Kazakhstan and the
Read More »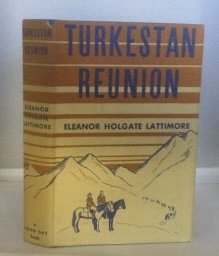 Courtesy of Personal Library of Former Ambassador of Kazakhstan to the United States of America H.E. Erzhan Kazykhanov Eleanor Holgate Lattimore was born in Evanston,
Read More »
Join the future and view past events 
Boylston Hall | Boylston Hall, Cambridge, MA 02138, Harvard University
GWU, Room 113 | 1957 E St NW,, Washington, DC 20052