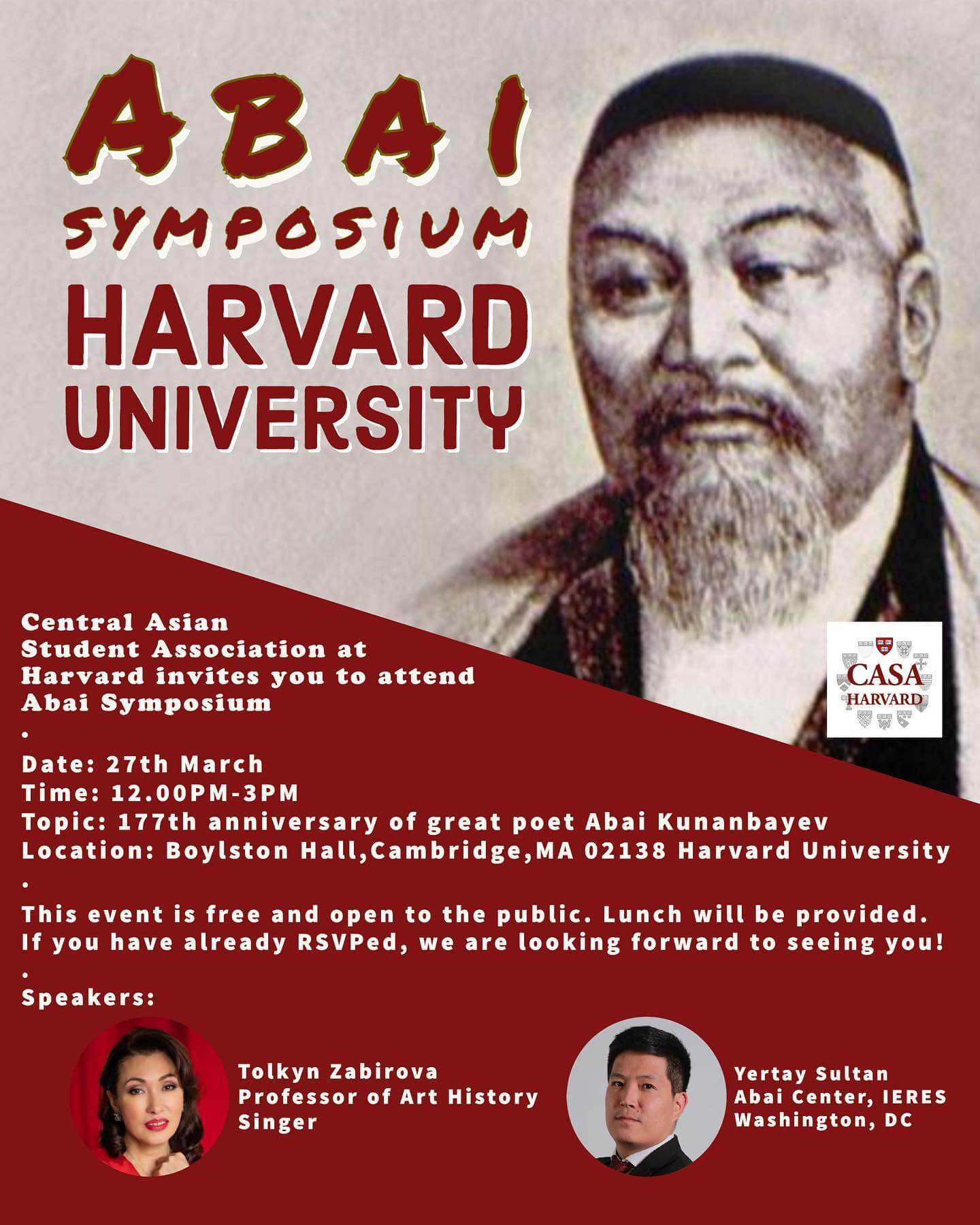 Abai Symposium at Harvard University
On March 27, CASA Harvard organizes the Abai Symposium, dedicated to Abai Qunanbaiuly's 177th birthday anniversary. Abai is a renowned nineteenth-century Kazakh poet, composer, and author of The Book of Words (Qara sózder). His works have been translated into ten languages, and his cultural legacy continues to play an important role in the formation of Kazakh national identity. The Symposium provides attendees with an opportunity to learn more about Abai's rich cultural heritage, including his poems and prose.
Guest speakers:
– Tolkyn Zabirova – a well-known Kazakhstani singer, opera artist, and professor of art history. 
– Yertay Sultan- Ph.D. in Literary Studies, Deputy General Director and Leading Researcher of the M.O. Auezov Institute of Literature and Art, Coordinator at the Abai Center, Washington, DC.
– Askar Kenzhegaliyev – musician, composer, Head of the Dombyra players Union of Kazakhstan.
Time: March 27, 2022. 12.00-3.00PM
Location: Boylston Hall, Cambridge, MA 02138, Harvard University
This event is free and open to the public. Lunch will be provided. Please RSVP by emailing aruzhan_meirkhanova@g.harvard.edu. If you have any questions, feel free to contact Aruzhan Meirkhanova.
Per current University guidelines, masks are mandatory indoors. For more information on Health and Safety Guidelines, please consult the Harvard EHS webpage.
Sincerely,
CASA Executive Board