In 2016, Joo-Yup Lee, a historian from the University of Toronto, published Qazaqlïq, or Ambitious Brigandage, and the Formation of the Qazaqs: State and Identity in Post-Mongol Central Eurasia (Brill, 2016). The book dealt with the formation of the Kazakhs (Qazaqs) as a nation and as those who pursued qazaqlïq, or the qazaq way of life. In fact, qazaqlïq, a political vagabondage, was also practiced by the founders of the Shibanid Uzbeks and the Ukrainian Cossacks. The book was translated into Russian and published in Almaty, Kazakhstan, in June 2022. In this essay, Joo-Yup Lee tells of his recent trip to Kazakhstan, where he participated in a book presentation and discussion, met old friends, and made new ones.
Text and photos by Joo-Yup Lee
I visited Kazakhstan for the second time in my life last summer. I was invited by the Shon Publishing House (https://www.shon.kz/) to attend the launch event of the Russian translation of my book («Qazaqlïq и образование казахов. Государство и идентичность в постмонгольской Центральной Евразии») and the international conference on qazaqlïq.
I had the time of my life there.
I arrived in Almaty on June 19 after a long flight and a layover in Frankfurt. Aliya Bolatkhan, who is a researcher at the Valikhanov Institute and my Kazakh correspondent at the Shon Publishing House, was kindly waiting for me at the airport and took me to the Almaty Hotel, where I stayed for the next three nights.
The classy hotel room had a majestic view: I could see the Tian Shan Mountain and the Abay Kazakh State Academic Opera and Ballet Theater from the window. About the Almaty Hotel, I can say unreservedly that its breakfast buffet was the best hotel buffet I have had in my life.
The next morning, my adopted nephew Dmitry Choi—the nephew of my best Korean friend, Sofia An, who was a professor at Nazarbayev University before passing away in 2019—came to my hotel with his family. He took me to his aunt's grave so that I could pay my respects to her for the first time since her death. We then had a delicious lunch at his mother's place. While traveling by car in and around Almaty, I could see splendid-looking new high-rise apartment buildings everywhere—they were all nicely designed.
After lunch, we visited the Issyk State Historical and Cultural Reserve Museum, which I remember as the Golden Man/Altyn Adam Museum. The staff of the museum—Daniyar Baidaralin and his wife, Assylgul Baidaralina, who were dressed in Saka-style attire—gave me a guided tour of the museum. As a historian, I really enjoyed viewing the historical relics of the Saka people, including the Golden Man. Daniyar and Assylgul were very professional and kind. Daniyar told me that he was very happy to meet me in person because he had liked my book. He himself had authored a book entitled Qazaqlyq: Origin, Evolution, Peak, Decline, and Future, which he gave me as a gift. Assylgul, who is an artist, gave me one of her paintings and some fresh local apples. Daniyar and Assylgul have become my new friends.
At Issyk State Museum
In the evening, I was invited to a unique restaurant that served special Kazakh dishes—including soup, horse meat, kumys, and so on—prepared by a young Kazakh chef and, Aliya Bolatkhan, who try to revive forgotten Kazakh recipes as a way of consolidating Kazakh identity. Eating the soulful dishes made from fresh Kazakh ingredients was like a ritual for me. At the restaurant, I was happy to meet up with my longtime Kazakh friend Nygmet Ibadildin from KIMEP University, whom I had last seen at Niagara Falls in 2017, and two very gentle and friendly French scholars, Dr. Xavier Hallez and Dr. Vincent Fourniau, who had come to Almaty for the conference. I was also happy to meet Dr. Zarina Mukanova, the translator of my book, with whom I had been communicating by email for over a year.
At this reception dinner, I also met Gouhar khanim (Gaukhar Rakhmanberdievna Nurova), the founder of the Shon Publishing House. She was a gracious, unpretentious, and charismatic lady. She reminded me of Gauhar Shad (wife of the Timurid ruler Shahrukh and daughter-in-law of Timur/Tamerlane), who was well known for her patronage of the arts and architecture. Thanks to her, many important academic books on Kazakh history are becoming accessible to readers in Kazakhstan and beyond. When I learned that she was of Naiman lineage, I told her what the famous Ilkhanid court historian Rashid al-Din wrote about the Naiman in his Jāmiʿ al-Tavārīkh: "The Naiman women are renowned for their beauty and comeliness."
On June 20, I was invited to the "Biz" exhibition at Dostyk Avenue, which showcased the masterpieces of Aliya Bolatkhan. Thanks to the laborious work of Ms. Bolatkhan, who spent a significant amount of time in the national archives of Kazakhstan to prepare for this exhibition, I was able to learn about the plight of many different ethnic groups that were deported to Kazakhstan in the 1930s.
After this, the participants had dinner at a fancy Kazakh restaurant. I had several salad and meat dishes, which were all very tasty. In the evening, I took a walk along Kabanbay Batyr Street and other nearby streets. The streets were really lively and the buildings and parks were all beautiful. I felt like I was in a touristy European city.
On June 21, I attended the book launch event and international conference held at the National Library of the Republic of Kazakhstan. I had the honor of meeting so many scholars and intellectuals there. Some of them gave me the books they had written.
In the morning, I made a presentation about my book. I had only slept for about 2 hours in order to prepare for it. During the break, I was interviewed by local television channel "Almaty TV."
In the afternoon, I became engaged in a heated debate with Dr. Nurlan Atygaev, who later came to greet me. We shook hands and became friends. I then told him that we are the same kind. I thank Nurlan for his generosity. At the conference, I was also privileged to meet with Dr. Meruert Kh. Abuseitova, from whose works I have benefitted a lot. I thank and miss everyone—including a couple, an elderly lady, a former Armenian diplomat, young students, and the staff members at Shon Publishing House—who spoke to me at the book launch event and the conference. Their acknowledgment meant the world to me.
In the evening, some of the conference participants had dinner at another fancy Kazakh restaurant, after which I had a farewell beer with the two French scholars, who were leaving Almaty the next morning. They then told me in detail about what hospitable hosts the Kazakhs are, something I would experience for myself the next day.
On June 22, I was invited to lunch by Gouhar khanim and her husband, who is the CEO of a Kazakh company. Their mansion, with a beautiful garden, was the most magnificent house I have ever been in. A lot of delicious Kazakh dishes, including beshbarmak and kurt, were served. It was very clear to me that the Kazakhs are the best hosts. I regard that special lunch as one of the best rewards I have received for studying Kazakh history. I regret having eaten breakfast that day. Otherwise, I could have eaten a lot more! If I could go back in time, I would skip the previous two meals.
Before this lunch, I went to KIMEP University to give a speech. However, since the lecture had been organized in the middle of summer break, only one person showed up. At KIMEP, I had two different interviews. One of them, with Marina Hegay, a reporter from CARAVAN.kz, has been published online.
In the evening, I had a long, meaningful conversation with the renowned Kazakh historian Dr. Kanat Uskenbay with the help of Aliya, who served as our interpreter. Dr. Uskenbay and I had been communicating by email and been friends since 2019. I was so happy to be able to talk to my old friend face to face. Fortunately, we have a similar view of Kazakh history and research methodology. Kanat is one of my strongest supporters in Kazakhstan.
The official program prepared by Shon Publishing House ended on June 22. The second part of my journey—a trip to Astana and the mausoleums of Jochi Khan and Alash Khan—began on June 23. That morning, I flew to Astana.
Astana
Upon arrival, I was welcomed by Assol Mirmanova, a president of AIN Citadel PF, from whom I learned a lot about the history of Astana and current issues in Kazakhstan. I was greatly encouraged by her insightful comments about my book and her remark that I am a soulmate of the Kazakhs. I remember her as a thoughtful, patriotic intellectual, an excellent diplomat, and a soulmate of mine. That day, I really enjoyed the Kazakh laghman and a short traditional dance performed by the restaurant staff there. I was captivated by the dance moves using their arms.
In the evening, I walked back and forth between the Presidential Palace and the Khan Shatyr Entertainment Center on my own. I truly loved the atmosphere and architecture of Astana.
The next day, I gave a public talk hosted by Temirtas Iskakov, a young environmental activist and leader of a conservation group in Astana. Many Kazakh youngsters attended my talk. I was impressed by their earnest faces and serious questions. After the lecture, Temirtas and his colleague Adina Tulegenova showed me around the old part of Astana. The tour was refreshingly heartwarming and made me feel nostalgic. I also unexpectedly found the statues of Jani Bek Khan and Girey Khan, two main heroes of my book, there!
I treated Temirtas and Adina to dinner at a restaurant called Turfan. I really enjoyed the tasty Kazakh appetizers and meals, as well as the conversation with two young Kazakh intellectuals.
In the evening, I once again walked back and forth between the Presidential Palace and the Khan Shatyr Entertainment Center alone.
I felt a little sad walking along the bank of the Ishim River and around the vast, empty square of the Presidential Palace.
When I first visited Kazakhstan in 2010 as a Ph.D. student, I was unable to visit the futuristic city of Astana. Since then, it had been my dream to visit Astana. I thus fulfilled my dream. I wish I could have spent more time there.
On June 25, I flew to Zhezkazgan to visit the mausoleums of Jochi Khan and Alash Khan. In the morning, Assol picked me up at my hotel, which was near the Presidential Palace, and took me to the airport. We had one last conversation and bade each other farewell. Assol had kindly made arrangements for my trip to the mausoleums. At Zhezkazgan Airport, Raushan khanim (Raushan Kaparova), a staff member from the Zhezkazgan Historic-Archaeological Museum; her friend Aslan Pachalov, a young film director based in Almaty; and an elderly staff member from the museum were waiting for me. They took me to the mausoleums of Jochi Khan and Alash Khan. The trip was not easy. It involved a three-hour-long (return), non-air-conditioned car ride on a bumpy road at 43 degrees Celsius. I had never experienced a temperature of over 40 degrees Celsius before. However, visiting the two mausoleums was like a pilgrimage for me. Chapter 6 of my book examines the identity of Alash Khan, the legendary founder of the first Kazakh state. Jochi Khan is the progenitor of the Kazakh Khanate and ancestor of Jani Bek Khan and Girey Khan. In short, I accomplished my "academic Hajj"—I was so happy to observe and touch the two mausoleums. At the Jochi Khan mausoleum site, there was a new memorial museum that had been built about two weeks prior to my visit. I loved it, as well as the huge yurt that had been erected there. At the Alash Khan mausoleum, which was bigger than I had imagined, people were allowed to go up on the rooftop. The view of the vast steppe from the roof was awesome.
At the Alash Khan mausoleum
I had the time of my life in the Qipchaq Steppe.
At the mausoleum of Jochi Khan, Bakytzhan Igenuly Kopbayev, a staff member of the mausoleum complex, offered me a guided tour. He was professional, high-spirited, and kind. When my sunglasses broke, he willingly gave me his. I am keeping his sunglasses on my bookshelf as a souvenir of friendship. (I wrote to him after coming back to Toronto but have not heard back from him.)
At the mausoleum of Jochi Khan
After returning to Zhezkazgan from the mausoleums, Raushan khanim and Aslan had, with some difficulty, to find a hotel for me because the apartment I had booked was overbooked and the two commercial hotels in the city were unavailable. Thanks to their help, I was able to stay at a hotel for local doctors (Gostinitsa Medtsentra). If I had traveled alone to Ulytau, I might have ended up sleeping in the street or even gotten lost and perished in the steppe. For dinner, I ate some delicious canned food and desserts in my nice, air-conditioned hotel room. I bought them at a convenience store like 7-Eleven near the hotel. I saw similar convenience stores in Zhezkazgan and they were very clean and full of delicious stuff. I miss them.
The next morning, Raushan khanim invited me to the Zhezkazgan Historic-Archaeological Museum. Diana, a young staff member who had studied in Turkey and knew Korea well, gave me a guided tour in English. I greatly enjoyed the tour. The museum was full of interesting collections and exhibits, including Timur's inscription in the Ulytau Mountains, the balbals, and miniaturized replicas of the mausoleums. I took a lot of photos there. Raushan khanim also gave me some illustrated books about Ulytau, including a book she had produced. I cherish them. I remember Raushan khanim as an academic and considerate person. She told me that the mayor of the Ulytau region had asked her to take me to the mausoleums. I express my sincere gratitude to him for his invaluable support.
I came back to my hotel along Alash Khan (Alashakhan) Street and had some delicious canned food and desserts again. Aslan picked me up in the afternoon and showed me around Zhezkazgan, including the Kengir River, the Monument to the Conquerors of Space, the Monument to the First Builders of Zhezkazgan, the Theatre named after Kozhamkulov, and the statue of the Naiman general Ketbuqa. As a historian, I was pleasantly surprised to find a statue of Ketbuqa there. Alash Khan Street was also a nice surprise. Therefore, I could not help falling in love with Zhezkazgan and the Ulytau region. Although Zhezkazgan, which is a Soviet-style provincial city, is not as new/modern as Astana or as fancy/beautiful as Almaty, I see it as a well-planned and -designed city. It must have symbolized civilization and modernity when it was first built in the middle of the steppe. I respect the people of Zhezkazgan for their longstanding contribution to the economy of Kazakhstan. It was also nice to see Kazakhs and Russians living in harmony. Having visited a provincial city of Kazakhstan, I now believe even more strongly that Kazakhstan is a developed country.
Aslan also took me to his father's café (Mona Lisa), which is the best café in Zhezkazgan. I drank 3-4 different kinds of coffee there with some sweets. His father, Azad Pachalov, was a very gentle and nice person. Aslan was visiting his father in Zhezkazgan when Raushan khanim asked him to be our interpreter. Aslan is such a talented film director. I greatly enjoyed watching the videos (including a video of Zhezkazgan and a movie trailer) he produced and uploaded on YouTube https://www.youtube.com/channel/UCbd0BnmoPLX1VUIqUG_9FmQ. I believe more people should subscribe to his channel and share it with their friends. He plans to make a movie about the myth of Samruk, the legendary Kazakh sacred bird.
The next morning, Raushan khanim again invited me to the Zhezkazgan Geological Museum. Olga Ivanovna Bondarenko, a smiling staff member of the museum, gave me a most enjoyable guided tour. Although I am a historian, I realized that this geological museum was a must-visit place in Zhezkazgan. I learned a lot about the history of Zhezkazgan and the renowned geologist Kanysh Satpayev.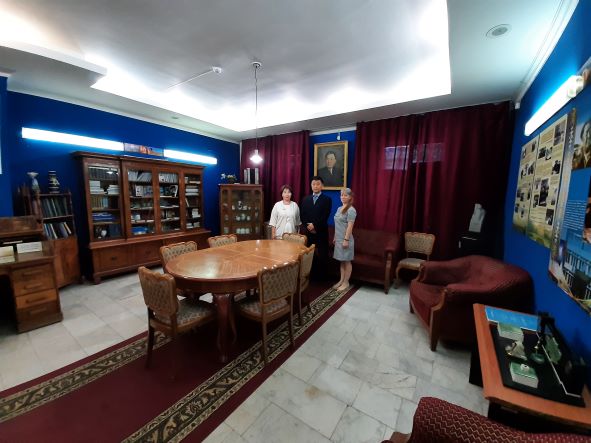 After visiting the museum, I invited Aslan and Raushan khanim to lunch, but only Aslan could come. I had laghman and shashlik. I had laghman in many different places and I can say that Kazakh laghman is the best. In fact, all the Kazakh restaurants I ate at were great. I miss them a lot. After lunch, Raushan khanim and Aslan took me to the airport and we bade each other farewell. I benefitted hugely from their kindness.
After arriving in Almaty, I had dinner with the translator of my book, Zarina, who was, along with Nygmet and Kanat, my best old Kazakh friend. I met with Zarina to properly thank her for translating my book. Our conversation ranged from my book and her doctoral studies to destiny and ghosts. I respect Zarina not only for her competence and insight, but also for her openness and courage.
On my last day in Kazakhstan, I met up with my nephew Dmitry again and visited Sofia's grave one more time. He then drove me to a splendid mall (Esentai Mall) near the Ritz-Carlton Hotel, where I met up with Gouhar khanim, Aliya, and Nygmet for the last time. We sat at an outdoor table at Café Paul and had some delicious tea and cakes. This district was so fancy. I felt like I was somewhere in New York or Seoul.
Gouhar khanim gave me a lot of Kazakh souvenirs, including a fine Shapan/Chapan, which I cherish as a family treasure. Nygmet also gave me some Kazakh souvenirs, including beautiful artifacts made by his wife. Nygmet is an intellectual and quick-witted person whom everybody likes. So is Aliya, who initiated and oversaw the translation project of my book and organized all the events, for which I owe her an infinite debt of gratitude. I remember Aliya as a devoted, charismatic, and patriotic person.
At Café Paul, I also met with two eminent Kazakh scholars, Dr. Aidar M. Amrebayev and Dr. Erkin Baydarov. I met with them one after the other. We had such amicable and in-depth conversations on Kazakh scholarship and history. When/if I visit Kazakhstan again, I would love to meet up with my new friends again.
That night, I went to my hotel (the Aksunkar Airport Hotel), which was very close to the airport, and had a late dinner at the airport. I ordered beshbarmak but it was sold out. I ate Kazakh sausage instead. It was quite tasty. I then slept for a few hours before taking my early-morning flight to Toronto via Istanbul. At the airport, I bumped into Gouhar khanim and her daughter Diana, which alleviated my sadness.
During my visit to Kazakhstan, someone who has foresight told me that, in my previous life, I was a traveler in the Kazakh steppe. I think that this may best explain why a Korean living in Canada has become a specialist in Kazakh history.
I have long been aware that Kazakhstan is a developed country with a well-developed economy and infrastructure, rich natural resources, and clear national goals. From this trip, I learned that Kazakhstan has plenty of young, talented intellectuals who love and worry about their country and also have an international mindset. I firmly believe that the future of Kazakhstan is so bright and promising because of them.
I would like to summarize my feelings about Kazakhstan and the Kazakhs as follows: "Я люблю эту благословенную страну и ее людей."
I would like to extend my gratitude to those who made my trip possible. I bow to Gouhar khanim for inviting me to Kazakhstan and her house and showing me the kindest hospitality; Aliya for organizing all the events professionally and doing her utmost to make my stay in Kazakhstan safe and successful; Assol for being an excellent host in Astana, making arrangements for my trip to the mausoleums, and regarding me as a soulmate of the Kazakhs; Temirtas for organizing a public talk for me and showing me around Old Astana; Raushan khanim and Aslan for making my academic pilgrimage in Zhezkazgan/Ulytau extremely fruitful; Dmitry for showing me around Almaty and welcoming me into his lovely family; and Elvira (Dr. Elvira Aidarkhanova) for kindly and patiently helping me plan my trip to Astana and Zhezkazgan, on which I would have given up had it not been for her encouragement and assistance.
---